Collaborating with Honeywell for Drone Delivery Solutions
In the fast-paced world of logistics and e-commerce, the last mile delivery remains a significant challenge. To tackle this obstacle head-on, our company has forged a fruitful partnership with Honeywell, a leading aerospace and technology company. This collaboration has enabled us to develop innovative solutions for last mile delivery, including our groundbreaking drone helipad. In this blog post, we will explore our cooperation with Honeywell and the remarkable advancements we have made in the field of drone delivery services.
Our company's expertise lies in developing cutting-edge solutions for last mile delivery. Recognizing the need for efficient and reliable drone delivery services, we joined forces with Honeywell Aerospace, known for its excellence in aviation technology. Through this collaboration, we successfully integrated our drone helipad with Honeywell's platform, leveraging their expertise in aerospace engineering and logistics management. This integration has paved the way for seamless and secure drone deliveries, revolutionizing the last mile delivery process.
In addition to drone delivery, our collaboration with Honeywell extends to enhancing logistics operations. Honeywell Solutions specializes in developing conveyors and systems for logistic companies, streamlining their operations and improving efficiency. By partnering with Honeywell Solutions, we have gained access to their state-of-the-art conveyor technology, complementing our drone delivery services. This holistic approach allows us to provide end-to-end solutions for our clients, optimizing their logistics processes and ensuring a smooth flow of goods.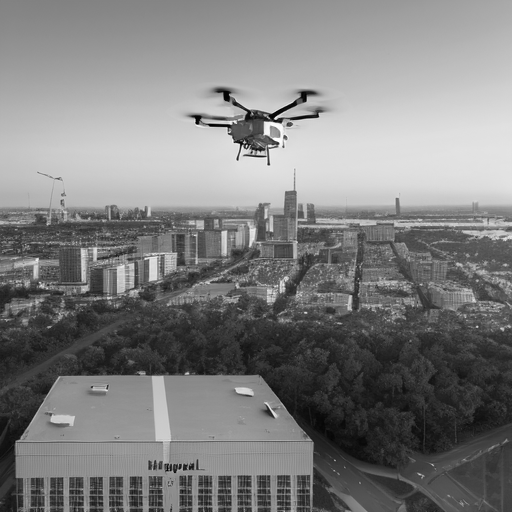 To showcase our technological advancements and the synergies between our companies, we are currently developing a drone helipad for Honeywell's showroom. This dedicated helipad will serve as a demonstration of our collaboration and highlight the capabilities of our drone delivery system in conjunction with Honeywell's cutting-edge technologies. The helipad will provide a tangible example of the seamless integration of our solutions, inspiring potential clients and partners to explore the possibilities of drone delivery in their own operations.
The cooperation between our company and Honeywell has been instrumental in pushing the boundaries of last mile delivery solutions. Through the integration of our drone helipad with Honeywell's platform and the utilization of their logistics expertise, we have revolutionized the way goods are delivered. Our collaborative efforts have resulted in efficient, secure, and cost-effective drone delivery services, providing a competitive edge to our clients in the logistics industry. The development of a helipad for Honeywell's showroom further showcases our shared commitment to innovation and the future of logistics. Together, we are shaping the landscape of last mile delivery and empowering businesses to reach new heights of success.